Hello all!
It's been a very long time since I blogged about any of the refurbished/repainted bits of furniture that I do so here's one of my very favourite pieces that I'm absolutely not going to put up for sale, ever!!!
We came across this - I'm gong to call it a vintage draughtsman's chair - on one of our last junking trips around Eastern Pennsylvania before we moved back to the UK. I loved it and almost ran to the counter with it to put it aside while we carried on browsing. Here's a before shot -
I had a plan to make this a statement piece for our kitchen/diner in our English house so I set about spray painting it bright red - this was definitely going to stand out! The seat was freshened up with a light coat of brown acrylic paint as I wanted it to still resemble wood. I then created a graphic design in permanent vinyl using my Silhouette Cameo and applied that to the seat.
It now stands proudly at our kitchen counter and I love it even more! The 'after' photos are from our American house but you can still see the chair in all its's glory. I will get around to photographing it in it's present home very soon.
And here's a close up of the seat design -
Yay- I was featured :)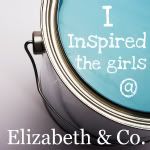 Thanks for stopping by!